Phone systems are the backbone of efficient and seamless communication for businesses. In Dublin, SystemNet has become the go-to provider of phone systems for businesses, offering tailored solutions that cater to the diverse needs of small businesses, call centers, retail enterprises, hotels, and businesses with remote teams.
Our phone systems focus on cloud-based technology. We help businesses in Dublin to communicate better and be more productive. This is especially important in the fast-changing business world of today.
In this blog, we will explore why businesses in Dublin choose SystemNet's phone systems. SystemNet stands out as a provider committed to meeting the unique requirements of our clients. We offer professional and affordable solutions. Moreover, our after-sales service is exceptional!
Join us as we dive into the benefits of SystemNet's cloud-based phone systems and discover how we can elevate your business communications to new heights.
Cloud-Based Phone Systems: The Main Key to Business Success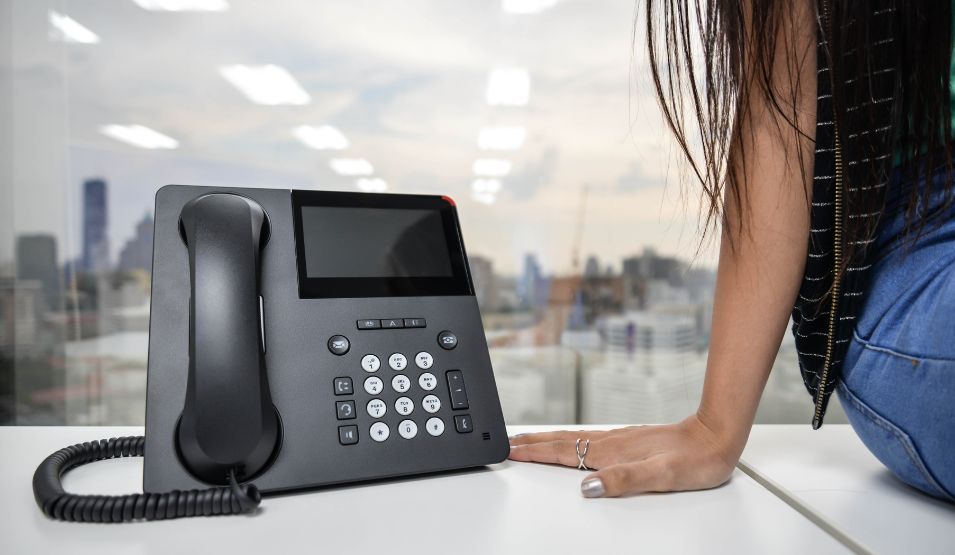 In today's rapidly evolving business environment, cloud-based phone systems have emerged as a critical tool for achieving success. These innovative communication solutions provided by SystemNet offer a wide array of benefits for businesses in Dublin.
Cloud-based phone systems utilise internet connectivity to transmit voice calls, messages, and other communication data, eliminating the need for traditional landline infrastructure. By leveraging the power of the cloud, businesses can experience a host of advantages that drive their success.
Enhanced Flexibility and Mobility: Cloud-based phone systems empower businesses with the flexibility to connect and communicate from anywhere, at any time. Whether it's remote teams, travelling employees, or branch offices, cloud-based solutions ensure seamless connectivity across locations. This flexibility enables businesses to adapt to changing work environments, cater to the needs of remote workers, and maintain efficient communication channels.
Business Continuity and Disaster Recovery: Cloud-based phone systems provide built-in redundancy and disaster recovery capabilities. SystemNet ensures that businesses in Dublin experience minimal disruptions during unforeseen events or outages. The cloud infrastructure allows for automatic failover, ensuring uninterrupted communication and minimising downtime. This resilience ensures that businesses can continue to operate smoothly, even in challenging circumstances.
Advanced Features and Upgrades: SystemNet's cloud-based phone systems offer a range of advanced features designed to enhance communication efficiency. These include auto-attendants, call routing, call analytics, voicemail-to-email transcription, and more. With regular updates and feature enhancements delivered seamlessly through the cloud, businesses can stay ahead of the curve and leverage the latest communication technologies to drive their success.
Reasons to Choose SystemNet's Phone Systems
When it comes to selecting a phone system for your business in Dublin, SystemNet stands out as the provider of choice for a multitude of reasons. From our professional and affordable solutions to our superb after-sales service, we offer a comprehensive package that sets us apart from the competition.
Here are the key reasons why businesses in Dublin choose SystemNet's phone systems:
Professional and Affordable Solutions: We pride ourselves on delivering professional-grade phone systems for businesses in Dublin. Our expertise and industry knowledge allows us to design and implement phone systems that align with your specific needs. Moreover, SystemNet's solutions are cost-effective, offering excellent value for money without compromising on quality.
Superb After-Sales Service: SystemNet goes above and beyond to ensure customer satisfaction extends beyond the initial installation. Our commitment to exceptional after-sales service sets us apart from our competitors. Whether you have questions, need technical support, or require system updates, Our dedicated support team is readily available to provide prompt and efficient assistance to you!
Top-Notch Quality Work in Network Cabling: A reliable and efficient phone system heavily relies on a well-designed and properly implemented network cabling infrastructure. SystemNet excels in this aspect, offering top-notch quality work in network cabling. We ensure that your phone system operates seamlessly and optimally, providing clear and uninterrupted communication throughout your organisation.
Seamless Switching of Lines: SystemNet understands the dynamic nature of businesses and the need for flexibility. Our phone systems allow for seamless switching of lines, enabling businesses to adapt and adjust their communication setup effortlessly. Whether you need to add new lines, remove existing ones, or make changes to your call routing, SystemNet ensures a smooth transition without disruptions.
By choosing SystemNet's phone systems, businesses in Dublin gain access to a range of features and benefits that enhance their communication capabilities and drive efficiency. From professional and affordable solutions to exceptional after-sales service and top-notch quality work in network cabling, SystemNet stands as a reliable partner for businesses seeking a robust and tailored phone system solution.
Benefits of SystemNet's Cloud-Based Phone Systems for Your Dublin Business
SystemNet's cloud-based phone systems offer a wide range of benefits that can significantly enhance the communication capabilities of your Dublin business. From improved flexibility to cost savings, here are the key advantages of choosing SystemNet's cloud-based phone systems:
Built for Remote Working
In the wake of the COVID-19 pandemic, remote work has become the new norm for businesses worldwide. SystemNet's cloud PBX systems are specifically designed to support remote teams, providing them with the necessary tools and functionalities to stay connected and collaborate effectively, regardless of their physical location.
SystemNet understands the importance of seamless communication for businesses adapting to work-from-home arrangements. Our telephone systems are built to cater to the specific needs of remote teams, enabling them to connect with colleagues and clients effortlessly. With features like mobile device integration and softphone applications, remote workers can access the phone system from anywhere, using their preferred devices. This allows them to make and receive calls, participate in conference calls, and access voicemails as if they were in the office.
By choosing SystemNet's phone systems for remote teams, businesses in Dublin can ensure that their remote workers have the necessary communication infrastructure to thrive. Our cloud-based solutions enable seamless connectivity, allowing team members to collaborate in real time, share ideas, and maintain productivity, regardless of their physical distance. With SystemNet, you can empower your remote teams to work efficiently and effectively, fostering a sense of unity and enabling your business to adapt and thrive in a remote work environment.
Unlimited Users and No "Per User Charges"
At SystemNet, we prioritise your business's growth and affordability by offering unlimited users without any per-user charges. This unique feature sets us apart from traditional phone system providers. Unlike many companies in the market, we believe that your organisation's expansion should not come with additional financial burdens.
With SystemNet's phone systems, you have the freedom to add as many team members as you need without incurring extra costs. Whether you have a small team or a large organisation, our systems are designed to accommodate your needs. We understand that as your business evolves, so does your need for effective communication and collaboration. Our unlimited user policy ensures that your phone system can seamlessly scale alongside your growing team.
In addition to unlimited users, we also offer the flexibility to add unlimited extensions. This means you can create individual extensions for each team member, department, or location within your organisation. This level of customisation allows for streamlined communication and efficient call routing, enhancing productivity and collaboration across your business.
By choosing SystemNet, you gain the advantage of unlimited users and extensions, giving you the freedom to expand your team without worrying about per-user charges. Our commitment to affordability and scalability ensures that your phone system can adapt to your business's changing needs, empowering you to focus on what matters most—your success.
Video Conferencing for All Users at No Extra Charge
We understand that effective communication in today's business landscape extends beyond traditional voice calls. That's why, at SystemNet, we prioritise the importance of video conferencing and offer this valuable feature to all users at no extra charge. Our cloud-based phone systems offer browser-based video conferencing. This encourages face-to-face communication and collaboration, eliminating the need for extra video conferencing tools or subscriptions.
Our commitment to providing video conferencing for all users without additional fees sets us apart from other providers. We believe that every member of your team should have the opportunity to engage in high-quality video meetings, regardless of their role or location. With our browser-based video conferencing solution, you can easily connect with colleagues, clients, and partners in real time, facilitating effective communication and strengthening relationships.
By integrating video conferencing into our phone systems at no extra charge, we aim to streamline your communication experience and enhance collaboration within your organisation. You no longer have to worry about investing in separate video conferencing tools or incurring additional expenses. We provide a comprehensive solution that meets your video communication needs, allowing you to focus on productive meetings and meaningful interactions.
Unlimited Landline Calls
When you purchase our cloud PBX plans, you gain the benefit of unlimited landline calls to Ireland, the UK, the USA, and many other international destinations. We prioritise keeping you connected with your local and global contacts, allowing you to conduct business seamlessly without limitations. Additionally, we offer low-cost mobile call rates and even provide mobile call bundles for further cost savings.
With our unlimited landline calls feature, businesses that heavily rely on landline communication, such as call centers or organisations that frequently interact with clients over the phone, can operate without concerns about exceeding call limits or incurring unexpected charges. We are committed to providing a comprehensive solution that meets your communication needs while keeping costs manageable.
At SystemNet, we strive to empower your business with reliable and affordable communication services. Our cloud PBX plans ensure that you have the flexibility to make unlimited landline calls to key destinations and enjoy low-cost mobile call rates. Trust us to keep your business connected while optimising your communication expenses.
Get a New Landline Number or Keep Your Own
With SystemNet, you have the opportunity to obtain new landline numbers for all area codes in Ireland. Whether you are expanding your operations or establishing a new branch in a different location, we can provide you with a local landline number that aligns with your business needs. This allows you to reach your target audience and cater to their specific geographical preferences.
Alternatively, if you have an existing landline number that holds significance to your business and is well-known among your customers, we offer a free-of-charge number porting service. This means you can effortlessly transfer your current number to our phone system without any disruption to your communication channels. By retaining your established phone number, you can maintain brand recognition and ensure that your customers can continue reaching you without confusion.
Full Range of IP Phones
Whether you need desk phones for office settings, cordless phones for mobility and flexibility, headsets for hands-free communication, or conference room phones for group meetings, we have the right hardware options to optimise your phone system setup. Our goal is to provide you with the tools that enhance productivity and streamline communication within your organisation.
With our desk phones, you can equip your office spaces with user-friendly devices that offer advanced features and crystal-clear audio quality. For employees who require mobility and the freedom to move around, our cordless phones provide seamless connectivity without compromising on call quality. Headsets enable hands-free communication, perfect for busy professionals who need to multitask while on calls. And for collaborative meetings, our conference room phones ensure clear audio and intuitive controls for productive discussions.
We partner with trusted brands like Yealink and Konftel to deliver IP phones that are known for their reliability, durability, and exceptional performance. You can trust that our hardware solutions are designed to enhance your communication experience and support the smooth operation of your business.
With SystemNet, you have access to a full range of IP phones that cater to the diverse needs of your Dublin business. We are committed to providing you with the right hardware options, backed by reliable brands so that you can optimise your phone system and achieve seamless communication within your organisation.
Our phone systems for businesses, including small businesses, provide reliable, scalable, and cost-effective solutions. With a focus on meeting the unique requirements of businesses and providing seamless communication, SystemNet stands as the preferred choice for phone systems in Dublin.
Contact us today and discover how our phone systems can transform the way you do business.
See Also:
Choosing the Best Small Business Phone Systems for Dublin
For A Quotation, please fill in the form below: